Stephen M. R. Covey
Best-Selling Author and World-Renowned Consultant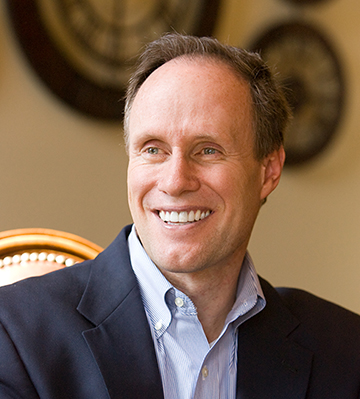 Every time I interact with Stephen Covey I learn something new, and I love the lessons he shared today:
First, you can have two trustworthy people working together, and yet no trust between them, if neither person is willing to extend trust to the other. Extending trust requires us to be vulnerable. Sure there is a risk in trusting. But there's also a potentially bigger risk in not trusting.
Second, the key to trust, leadership, and influence is to lead from the inside out, which, to Stephen means, "I go first." Don't wait for others to lead. Don't wait for the systems or leaders to change. Enduring influence is created from the inside out, so the job of a leader is to go first.
Third, treat others according to their potential rather than their behavior. It's easy to treat people according to their behavior. But a leader sees the potential in other people and communicates that potential to them so that they can see it in themselves. Treating people according to their potential, rather than their behavior, helps people live up to their potential.
Whenever I think of Stephen Covey, I think of trust. But now I'll think of leadership as well, because he just shared three crucial elements of effective leadership. Trust others, go first, and treat people according to their potential. All simple ideas. Please take them seriously.
Stephen M.R. Covey Bio:
Stephen M. R. Covey is a New York Times and Wall Street Journal bestselling author of The SPEED of Trust—The One Thing That Changes Everything. He is the former CEO of Covey Leadership Center, which, under his stewardship, became the largest leadership development company in the world. Stephen personally led the strategy that propelled his father's book, Dr. Stephen R. Covey's The 7 Habits of Highly Effective People, to become one of the two most influential business books of the 20th Century, according to CEO Magazine.
As President and CEO of Covey Leadership Center, Stephen nearly doubled revenues while increasing profits by 12 times. During that period, the company expanded throughout the world into over 40 countries, greatly increasing the value of the brand and enterprise. The company was valued at $2.4 million when Stephen was named CEO, and, within three years, he had grown shareholder value to $160 million in a merger he orchestrated with Franklin Quest to form FranklinCovey. Stephen also received an MBA from Harvard Business School and lives with his family in Provo, Utah.
I hope you enjoy learning from
Stephen
Covey today, because I always do.
Get Nates Notes In Your Inbox
Subscribe to Nates Notes to receive a summary of each podcast episode delivered to your Inbox.